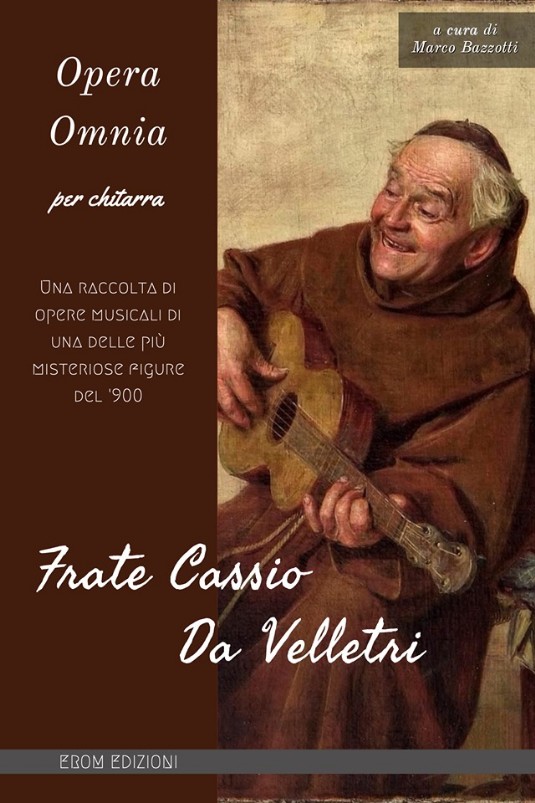 Frate Cassio da Velletri - Opera Omnia per chitarra
A collection of musical works by one of the most mysterious figures of the 20th century.
EROM Editions 2019
Content:
Mazurka for Mandolin & Guitar (Il Plettro, 1924)
Tempo di Mazurka, guitar solo (Il Plettro, 1931)
Mazurka, guitar solo (Vizzari, 1932)
Valzer, guitar solo (Il Plettro, 1932)
Solitudine, guitar solo (Il Plettro, 1933)
Piccola Elegia, guitar solo (Il Plettro, 1933)
Preludio in Do minor, guitar solo (Il Plettro, 1934)
Gavotta, guitar solo (La Chitarra, 1934)
Tre Coserelle, guitar solo (Il Plettro, 1936)
"The name of Friar Cassio Da Velletri still remains today among the unknown composers and guitarists of the first half of the twentieth century, although on his person, even recently, many words have been spent and many speculations made, on blogs, articles and books (see the Bibliography ).
Today, we can understand at least that the entry "Fray Cassio" on page 330 of the celebrated Diccionario Biografico - Bibliographical - Historico - Critico de Guitarristas (1934) by Domingo Prat, was based on precise facts, namely a letter of ours (1919) and one of his published music (1931):
VELLETRI, Fray Cassio da. - Distinguido aficionado a la
guitarra y organista de capilla, en Roma, año 1920. Fray
Cassio da Velletri es autor de una "Mazurca" para guitarra,
en la que demuestra buen gusto y conocimientos de
armonía. Su agradable obra se desarrolla así: una parte
en SOL mayor y otra en RE mayor; ésta le sirve de entrada
y conclusión. La obra es de pronta adaptación, pues
no se complica con dificultades insalvables.
[...]
[from the Preface by M. Bazzotti]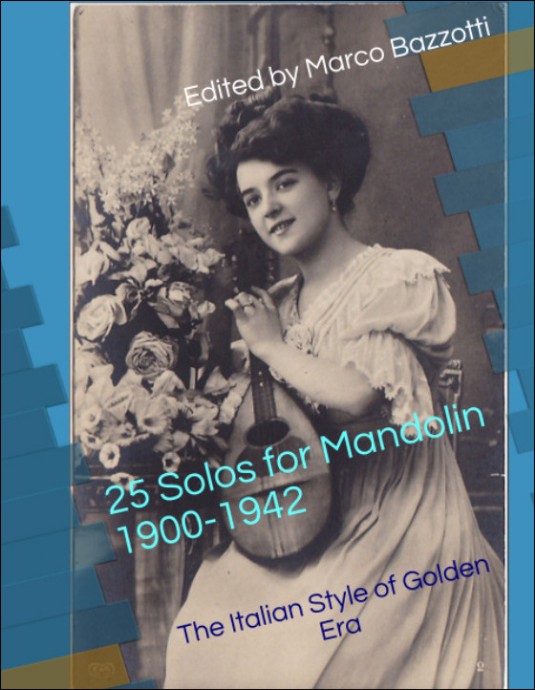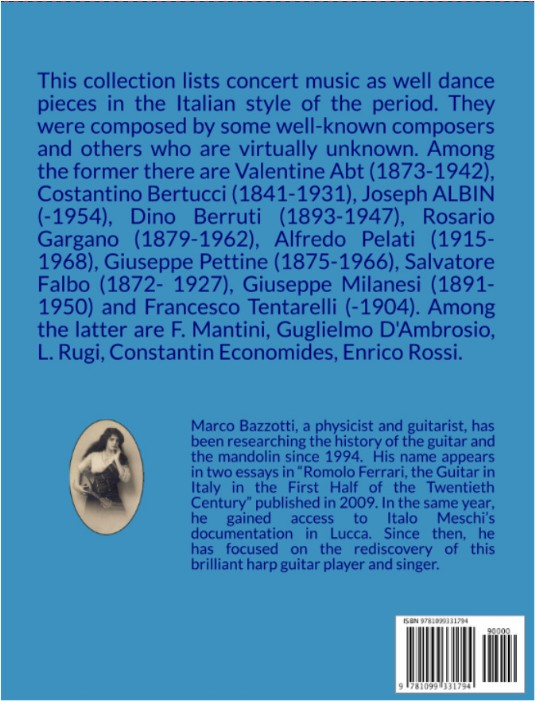 25 Solos for Mandolin 1900-1942
The Italian Style of Golden Era
The music collected here and republished in a modern edition represents a selection of original works for mandolin. It comes from out-of-print magazines and a few publications of that particular time and never printed afterwards. Many works originate from the supplements to the publication "Il Mandolino rivista musicale e letteraria." This music magazine, the first dedicated only to plectrum instruments, went to press from 1934 to 1942.
The collection encompasses concert music and dance pieces in the Italian style of the prewar period. It goes back to the so-called "Golden Age" of the mandolin, around the turn of the 20th Century. The music comes from some prominent period composers and by others, almost unknown today.
[...] Standing out, among the music collected here, are the two pieces by American mandolin composer Valentine Abt, and some by Francesco Tentarelli, Costantino Bertucci and Rosario Gargano. Nevertheless, I hope modern instrument lovers will also find the rest enjoyable.
[From Introduction by Marco V. Bazzotti]

List of included pieces:
Valentine ABT (1873-1942): Sounds from Church (In Quartet Form for One Mandolin) (1899)
Valentine ABT: Serenade per one mandoline (1902)
Federico MANTINI: Trottolina Polka (A. Forlivesi & C., 1901)
Costantino BERTUCCI (1841-1931): Notturno N. 2 (190x)
Joseph ALBIN (-1954): Carmona / Valse espagnole op. 125 (Il Mandolino, 06/06/1912, XXI n.10)
Joseph ALBIN: Zinzale / Polka (Il Mandolino, 15/05/1912, XXI n.9)
Guglielmo D'AMBROSIO: Flora, Mazurka (Il Plettro, 1912 n. 8)
Guglielmo D'AMBROSIO: Solitudine (Il Plettro, 1912 n. 19)
Guglielmo D'AMBROSIO: Illusione (Il Plettro, VIII, n. 15-16, 15-30 agosto 1913)
Guglielmo D'AMBROSIO: Tramonto d'oro, schottisch (Il Plettro, 1915 n. 8)
Alfredo PELATI (1915-1968): Carina!.. (Il Mandolino, 30/06/1922, XXXI n.11)
Alfredo PELATI: Follie carnevalesche () 1925 (Il Mandolino,)
Luigi RUGI: Brio nel Ballo (Il Mandolino, 30/06/1922, XXXI n.11)
Constantin ECONOMIDES: Song Duet (Il Plettro, 1925 n. 6)
Salvatore FALBO (1872-1927): Confessioni (Il Plettro, 1923 n.1)
Francesco TENTARELLI (-1904): L'Elettrico, Valzer (Il Plettro, 1926 n. 5)
Francesco TENTARELLI: La Diavoletta, Valzer (Il Plettro, 1935 n. 9)
Rosario GARGANO (1879-1962): Mazurka di concerto N.3 (Il Plettro, 1931 n. 8)
Rosario GARGANO: Strimpellata (Il Plettro, 1937 n.9)
Giuseppe PETTINE (1875-1966): Tarantella (Il Plettro, 1937 n. 11)
Giuseppe MILANESI (1891-1950): Scherzo (Il Plettro, 1924 n. 3)
Giuseppe MILANESI: Marcia Militare (Il Plettro, 1940 n. 12)
Dino BERRUTI (1893-1947): Scherzo
Dino BERRUTI: Scherzo alla Tzigana (Il Plettro, XXIX 1943 n. 3)
Enrico ROSSI: La Veloce, polka (Il Plettro, 1914 n.8)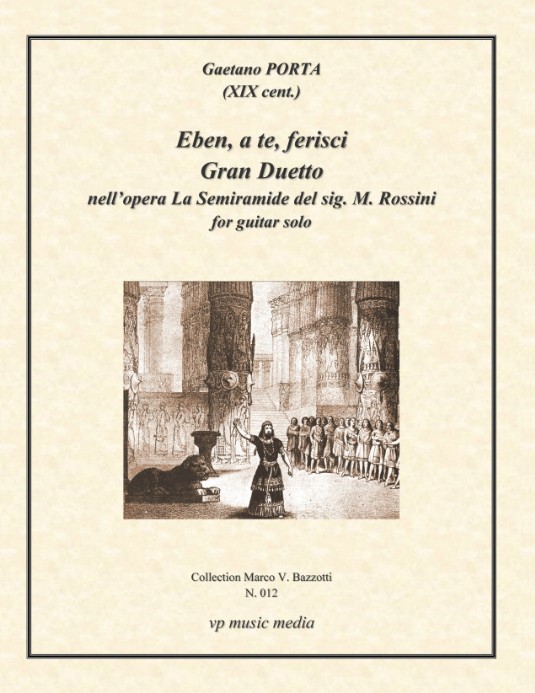 Gaetano Porta (19th cent.) - Gioachino Rossini
Eben a Te Ferisci, Gran Duetto for guitar solo
Large scale guitar solo work based on a gran duet of the act II in La Semiramide by G. Rossini.
An important addition to guitar solo repertoire of the Nineteenth century by a virtually unknown guitarist and composer active in Milan, Italy.
Preface in Italian and English by Marco V. Bazzotti, 12 pages of music, URTEXT with corrections and indications of guitar string only.
14 pages of the original manuscript.
First modern edition,
2014
.
"Gaetano Porta, guitarist and composer from Milan, lived during the mid-nineteenth century. We have no other biographical information. He composed many works for guitar solo and two (and three) guitars, still in manuscript form. His only published work is a
Sinfonia
for guitar solo, printed in Milan by Colombo, app. 1830.
This adaptation from the duet "Eben, a te, ferisci" [sic] from the Act II of Rossini's Semiramide comes from a manuscript in my own collection. It shows all the transcriber's skills in a medium-sized work of great difficulty for the instrument.
I wish to thank Italian musicologist Danilo Prefumo who discovered the collection from which the manuscript comes from and for presenting it to me. I thank also Danilo Prefumo and Massimo Agostinelli for their research on this author featured on "Il Fronimo" no. 134, April 2006 "Un fondo lombardo di composizioni per chitarra del XIX secolo."
The original manuscript's reproduction appears at the end of our edition. I hope it will be of help to the modern player.
No notable editorial mistakes were found in the whole manuscript."
Form the
Preface of
Marco V. Bazzotti,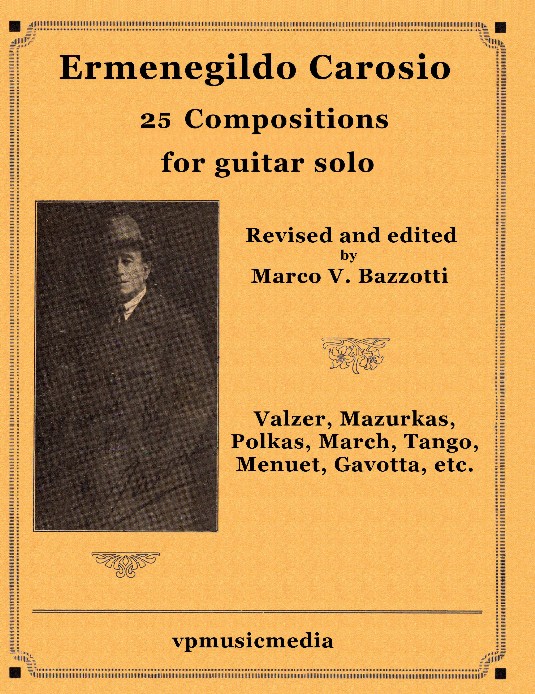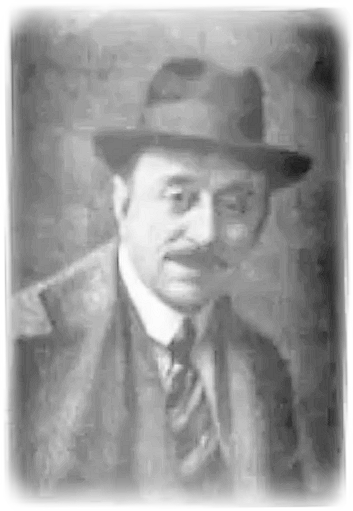 Ermenegildo Carosio (1866-1928)
25 Compositions for Guitar Solo
Ermenegildo Carosio was the most important composer of his time in Piedmont, Italy. He lived through, and fully interpreted, the period known as Belle Époque.
A native of Alessandria, Carosio began his music studies in his hometown and completed them in Turin.
From the 1890s, he focused on local music, living and working mainly in Turin. He was director of Turin's Concerto Romano (Variety Orchestra) and director of operatic seasons at Alessandria's Municipal Theater. He published danceable and classical music for various instruments, mainly mandolin and guitar, but also for piano and flute. He was a successful composer of songs and operettas, especially in Piedmont's dialect. Carosio was also a teacher for plucked and plectrum instruments (guitar, mandolin, etc.). He dedicated himself to his students, including Countess Alice Morteo of Multedo (1883-...), also a composer. [...]
[From Foreword by Marco V. Bazzotti]

List of included guitar pieces:
Primi passi (Waltzer)

Le chant de bebé

Ninna-nanna

Musette

Gemma (Mazurka)

Ebbrezze (Waltzer)

Cicaleggio

Baci perduti (Valzer)

Alice (Mazurka)

Madrigale

Emily (Mazurka)

Manuelita (Tango)

Pattuglia giapponese (Pezzo caratteristico)

Vieni ?! (Mazurka)

Mio sogno (Valzer)

Sei carina (Polka)

Gavotta

Trés Jolie (Polka-Marcia)

Occhioni belli (Mazurka)

L'Amour refleurit (Tirolienne)

Maliziosetta (Polka)

Ghiribizzi (Polka)

Follie !.. (Polka)

Minuetto all'antica


Imitation a l'Harpe (Caprice)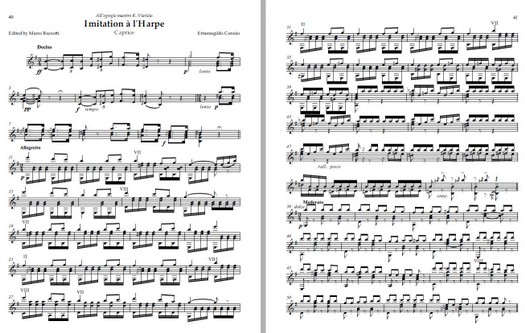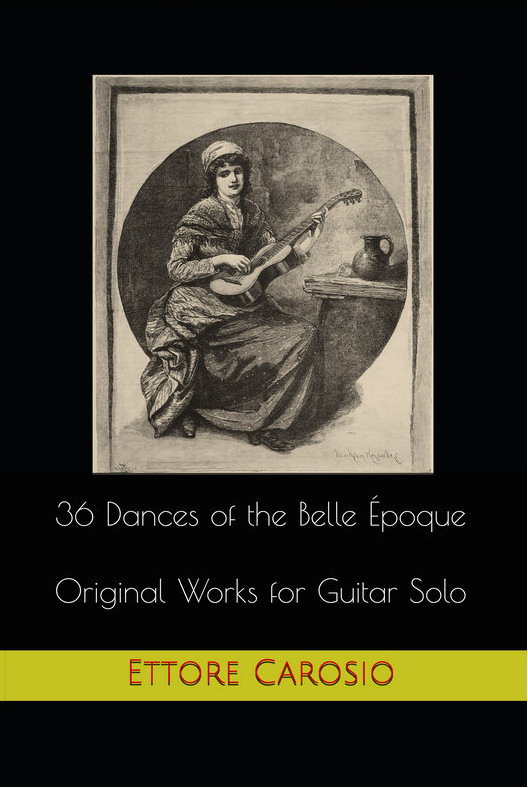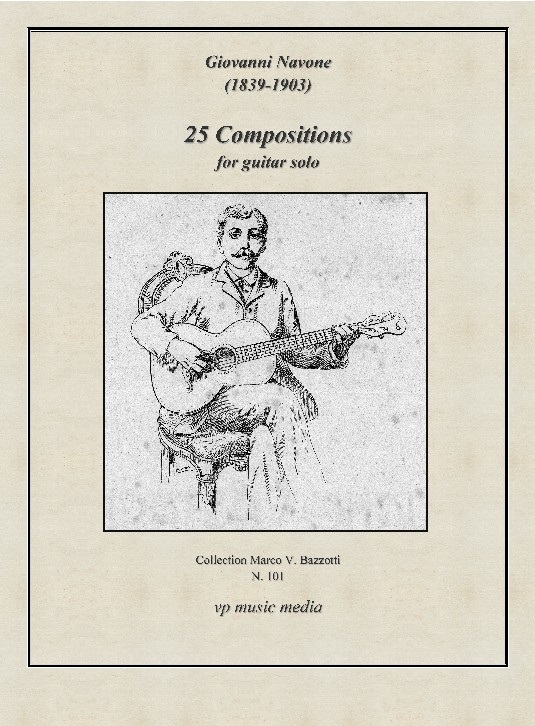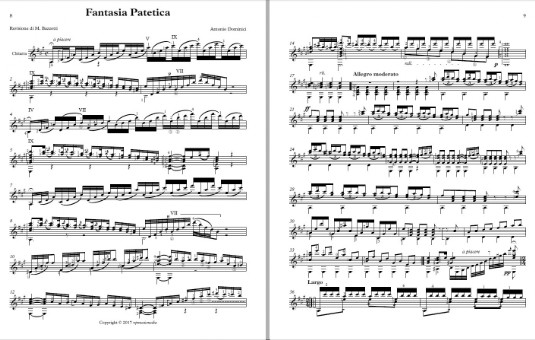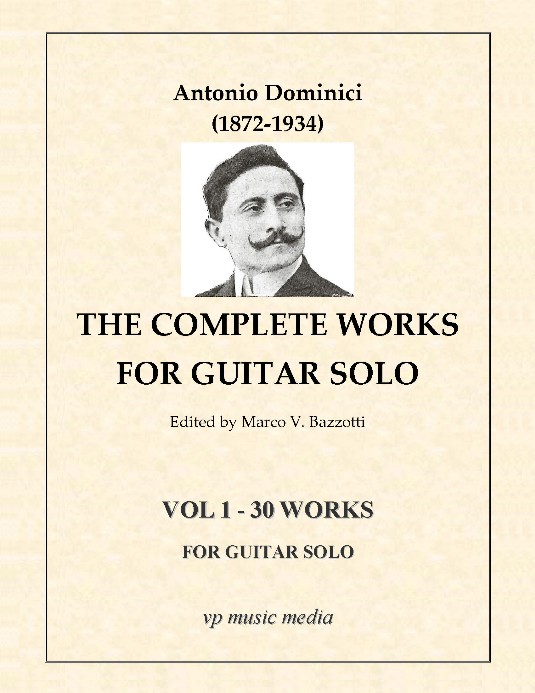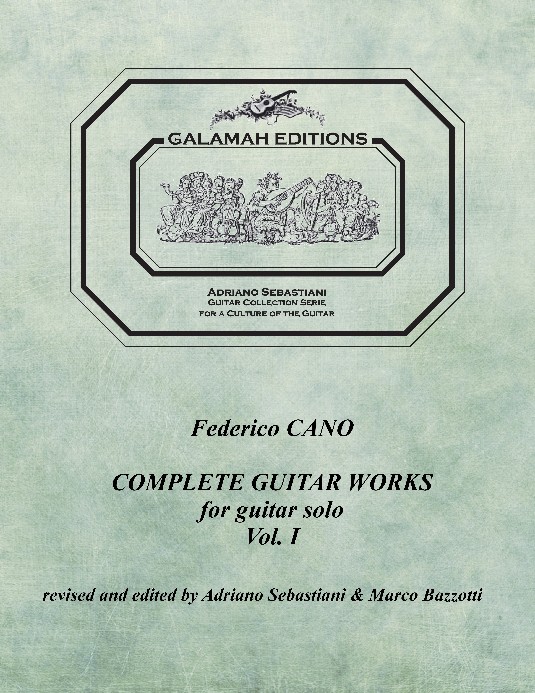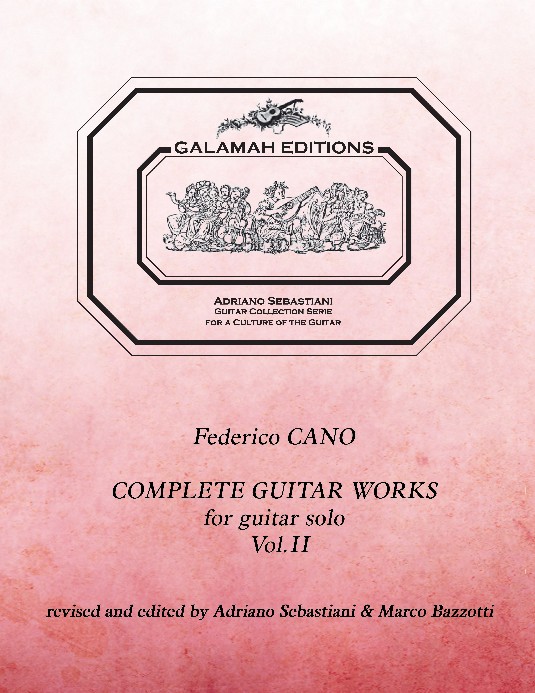 Ettore Carosio (1874-1914): 36 Dances of the Belle Époque
Original Works for Guitar Solo
The two Carosio brothers were born in Alessandria (Piedmont) into a humble family: their father Carlo was a shoemaker and their mother Cristina Torricelli a housewife. Despite some information about Ermenegildo Carosio (1866-1928) are reported, nothing is known about his younger brother Ettore. [...]

While still not containing those innovative elements in guitar writing that in the meantime were going to consolidate in the music of Spanish and South American authors in the first place, the songs of the two Carosio contributed to widen the original repertoire of the instrument in a period still dark and in the other Italy of then. [...]

In judging these dances, we must consider the occasionality they were composed and their targeted audience. In fact, during those years, the practice of music in a recreational sense was held in high esteem in the most diverse social and cultural environments. [,,,]

[From the Preface by Marco V. Bazzotti]
64 pages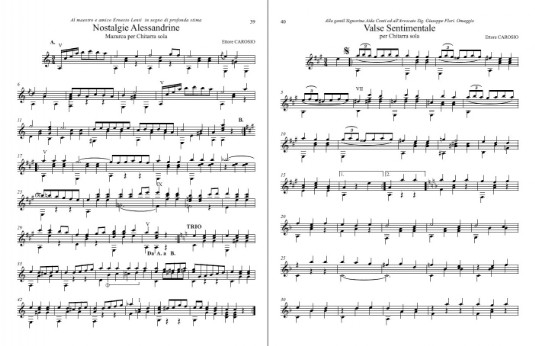 Giovanni Navone (1839-1907) - 25 Compositions for Guitar Solo
Giovanni Navone, son of Domenico, born in Villanova di Asti in 1839 came from a well-known family of musicians. Today, many guitar scholars consider him the founder of Piedmont's guitar school for his having trained almost all of Turin's guitarists of his time.
Navone undertook self-education in an era when musicians faced difficulties in making careers out of the guitar. Later, he devoted himself to the harp, mastering it. In Turin, he stood out for being a pupil of the then-famous master Antonio Ponzio, known for having republished and extended the guitar method of Antonio Nava (1775-1826). [...]
[From Foreword by Marco V. Bazzotti]

List of included guitar pieces:
Inno Danese
Sarabanda .
Danza araba No. 1
Circo-Scherzo No. 2 (Valzer)
Pagine sparse (Piccola Melodia)
Carmela (Mazurka)
Inno Marziale
Tarantella
La Cilentana
Corinna (Polka)
Festa campestre No. 4
Baci e Carezze (Valzer)
Mormorio (Studio Caratteristico) No. 6
Rosetta (Polka)
Pensiero melanconico
Un Sogno (Studio)
La danza delle ondine (Valzer)
Passa la carovana
Sospiro
Contradanza
Capriccio
Valzer di bravura
Scherzo
Mezzanotte : Rêverie
Scherzo / Polka
Souvenir de St. Paul : 1. Presto, 2. Zingaresca, 3. La danza dei nostri nonni (The dance of our grandparents

), 4.

Scherzo andaluso, 5. Melodia, 6. Selvaggia-scherzo, 7. Finale
Link on Amazon.com: G-Navone-Compositions-Guitar-Solo
Antonio Dominici (1872-1934)
Complete Guitar Works Vol. 1, 30 Compositions for Guitar Solo
94 Pages, VP Music Media Publisher / Createspace, 2017
Antonio Dominici was born in 1872 in Palermo (Sicily). According to his niece, Anna Averna[1], after musical studies in his city he left for Naples in 1893. He left in search of luck, taking with himself only his guitar and leaving behind his secure job as a firefighter. His dream? Becoming a "classical guitar" composer! Then again, unsatisfied with the Neapolitan guitar world, he joined a plectrum instrument ensemble headed for Russia. However, as soon as he arrived in Moscow's vicinity, the musicians abandoned him ...

[1] Anna Averna (Dominici), Un chitarrista italiano in Russia / Antonio Dominici, in Retroscena no. 4-5, p. 22-24, November-December 1953, see Documents.
(from the Foreword by Marco V. Bazzotti)
List of guitar pieces:
Penso sempre a te (Romanza senza parole)
Il mio sogno (Mazurca di concerto)
Fantasia Patetica
Triste Ricordo (melodia)
Sognai l'Amor sublime (Romanza senza parole)
Melodia celestiale (Notturno)
Valzer lento (Langsamer Walzer)
Gloria Palermitana (Marcia)
Serenata di maggio
Eralda (Mazurka)
Pietro Micca (Marcia)
Passione di un Zingaro (Valse)
Ricordo di Pietroburgo (Marcia)
Il mio sentimento (Valse)
Rimembranze d'Amore (Melodia)
La Serpentina (Polka)
Iolanda (Polka)
Amore e Tristezze (Fantasia)
Celeste amore (Melodia)
Occhi languidi (Romanza senza parole)
La Pastorella (Tarantella)
Regina-Gavotta 68
Grande Fantasia (Melodia)
Canzone-Marcia
Serenata appassionata
Ricordo di Marene (Mazurca)
Valzer Brillante
Rimpianto (Melodia)
Santa Lucia lontana
Elegia
Federico Cano: Complete Guitar Works (two volumes), edited by Adriano Sebastiani & Marco Bazzotti
58 + 58 pages
It is with deep passion that I present this editorial proposal. Divided in two volumes, it honours Spanish guitarist and composer Federico Cano (1838-1904), until now unjustifiably forgotten. With his father, Antonio Cano Curriela (1811-1897), he represents a fundamental link between two classical guitarist schools: that of Fernando Sor (1778-1839) and Dionisio Aguado (1784-1849) and that of the late romantic of Francisco Tarrega (1852-1909). The key role of Antonio and Federico Cano's musical and teaching contributions led me to promote this great artist.
[From the Foreword by Adriano Sebastiani]
Critical Apparatus (remarks and corrections to music text)
English translations of the guitar effects of the original text in Spanish

List of guitar solo pieces in the two books:
VOL. 1:
San Ysidro ò El Quince de Mayo en Madrid
Tanda de Valses
Estudio (a José Viñas)
Estudio (a Francisco Tárrega)
Un Recuerdo
Tarantela
Redova
Andante (a Augustin Altimira)
El Reloj de Cuco / Capricho
Tango (a Luis Toribio)
La Zambra / Capricho Fantastico (a Placido Lupresti)
Capricho Español (a Catalina Redin)
Capricho Melódico (a mi madre)
Preludio–Estudio
VOL. 2:
Las Montañas de la Selva / Capricho
Pot-Pourri de Aires Nacionales
Los Siete Dias de la Semana:
El Íbero / Paso doble op. 21
Carmen / Romanza sin palabras op. 22
Bodas de Plata / Reverie op. 23
Mis Dos Jilgueros / Estudio de concierto op. 24
Catania / Siciliana op. 25
Blanco y Negro / Tango op. 26
Fantasia española por V. Costa Nogueras op. 27
Entreacto y Danza de Bacantes (Ch. Gounod)
Pomponette / Air à danser Style Louis XV (Auguste Durand)
Luigi Portalupi (1907-1950): 20 Pieces (Original Works and transcriptions for guitar solo)
Edited by Marco Bazzotti & Antonio Stragapede in cooperation with "Atelier Chitarristico Laudense"
Content

Foreword by Marco V. Bazzotti on the large fund found and donated to Atelier Chitarristico Laudense
Original Works by Luigi Portalupi:
Annetta di Tharau (canzone popolare), edited by M. Bazzotti
Piccola Melodia in Do maggiore (Al Maestro Luigi Mozzani), edited by M. Bazzotti
Piccola Melodia in Fa maggiore (Studio per la mano sinistra), edited by M. Bazzotti
Preludio [La Chitarra, 1937] (Al Professor Benvenuto Terzi), edited by M. Bazzotti
Passo doppio
Serenata araba (Al Maestro Luigi Mozzani), edited by M. Bazzotti
Transcriptions by Luigi Portalupi:
Rudolf Sieczynski (1879-1952): Vienna Vienna (Wien, du Stadt meiner Träume)
Nino Ravasini (1900-1980): Disperatamente t'amo, edited by A. Stragapede
Giuseppe Blanc (1886-1969): Malombra
Robert Schumann (1810-1856): Rêverie, transcription by L. Portalupi & M. Bazzotti
Pietro Mascagni (1863-1945): Intermezzo da Cavalleria Rusticana, edited and fingered by Marco Bazzotti
Olivier Métra (1830-1889): La Sérénade, Valse Espagnole
Sergej V. Rachmaninov (1873-1943): Preludio op. 3 n°2
Stanislao Gastoldon (1861-1939): Musica proibita
Dino Olivieri (1905-1963): Tornerai, edited by A. Stragapede
Vittorio Monti (1868-1922): Czardas
Johann Strauss jr (1825-1899):Vino, Donne e Canto, Waltz Op. 333, edited by Marco V. Bazzotti
Kaspar Mertz (1806-1856): Preghiera
Eldo di Lazzaro (1902-1968): Reginella campagnola
Anonimo: Canzone russa.