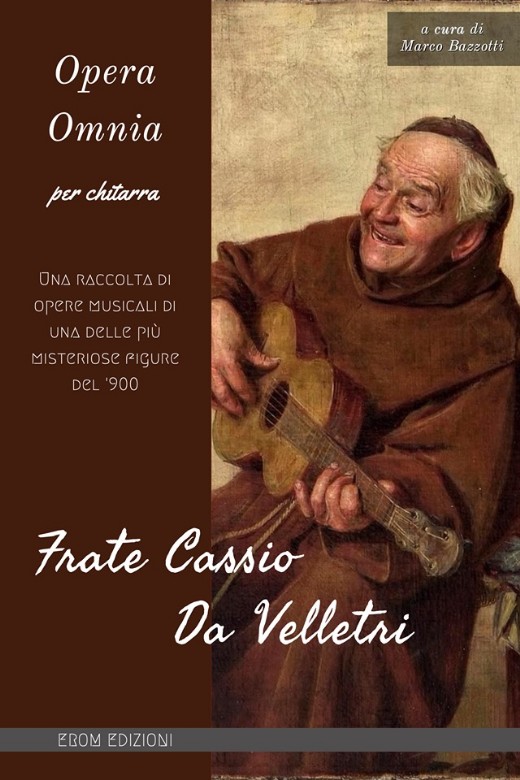 A collection of musical works by one of the most mysterious figures of the 20th century. EROM Editions 2019
Content:
Mazurka for Mandolin & Guitar (Il Plettro, 1924)
Tempo di Mazurka, guitar solo (Il Plettro, 1931)
Mazurka, guitar solo (edizione Vizzari, 1932)
Valzer, guitar solo (Il Plettro, 1932)
Solitudine, guitar solo (Il Plettro, 1933)
Piccola Elegia, guitar solo (Il Plettro, 1933)
Preludio in Do minor, guitar solo (Il Plettro, 1934)
Gavotta, guitar solo (La Chitarra, 1934)
Tre Coserelle, guitar solo (Il Plettro, 1936)
The name of Friar Cassio Da Velletri still remains today among the unknown composers and guitarists of the first half of the twentieth century, although on his person, even recently, many words have been spent and many speculations made, on blogs, articles and books (see the Bibliography ).
Today, we can understand at least that the entry "Fray Cassio" on page 330 of the celebrated Diccionario Biografico - Bibliographical - Historico - Critico de Guitarristas (1934) by Domingo Prat, was based on precise facts, namely a letter of ours (1919) and one of his published music (1931):
VELLETRI, Fray Cassio da. - Distinguido aficionado a la
guitarra y organista de capilla, en Roma, año 1920. Fray
Cassio da Velletri es autor de una "Mazurca" para guitarra,
en la que demuestra buen gusto y conocimientos de
armonía. Su agradable obra se desarrolla así: una parte
en SOL mayor y otra en RE mayor; ésta le sirve de entrada
y conclusión. La obra es de pronta adaptación, pues
no se complica con dificultades insalvables.
[...]
[from the Preface by M. Bazzotti]